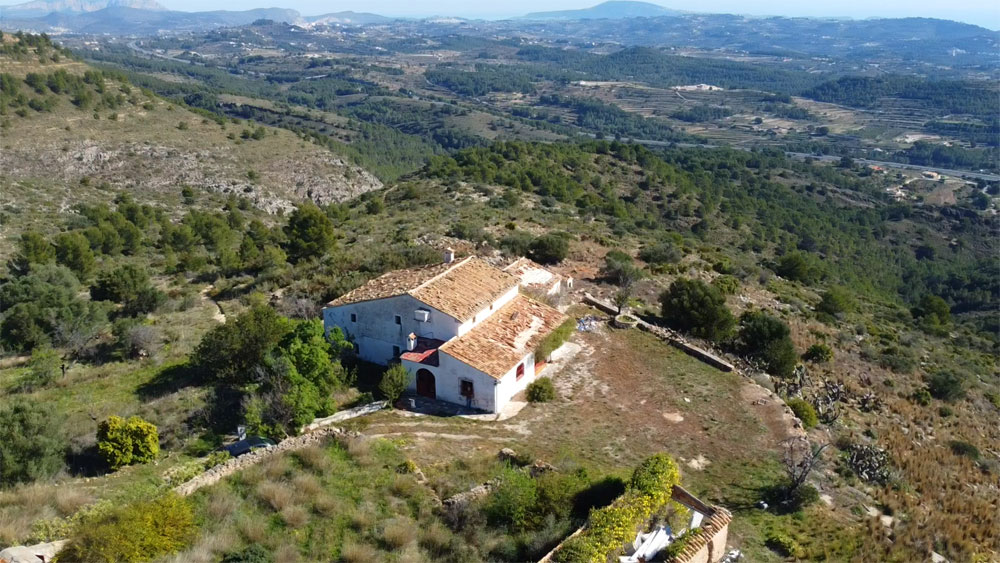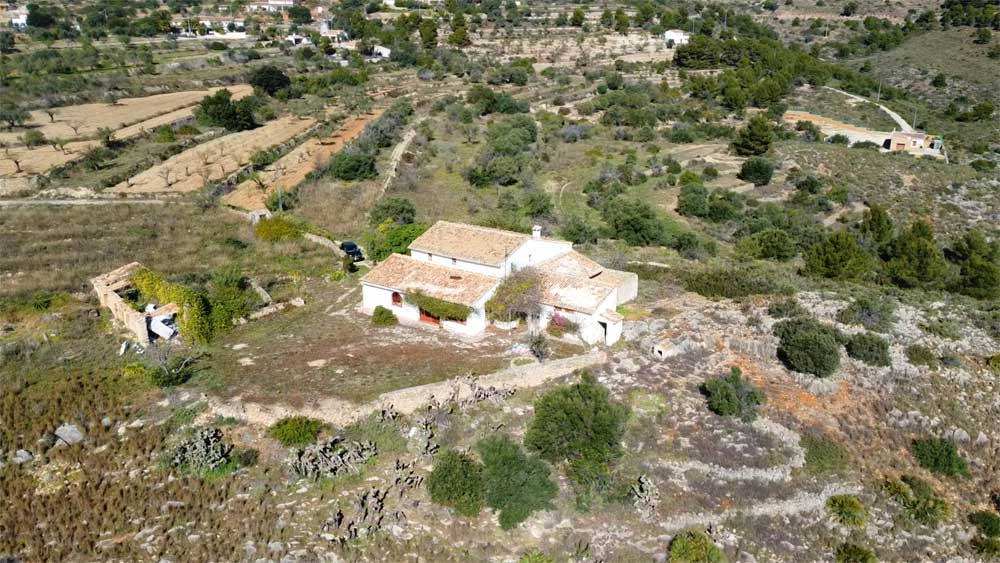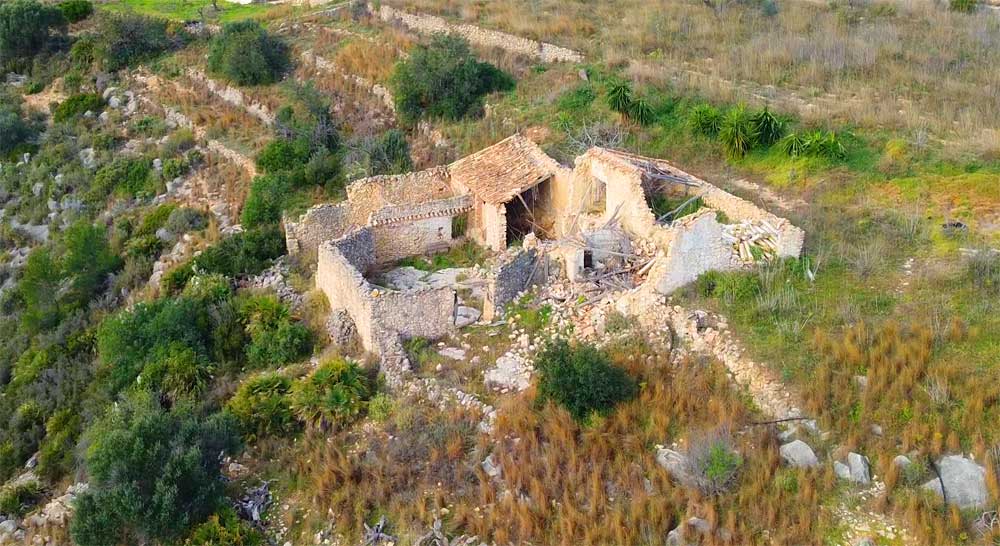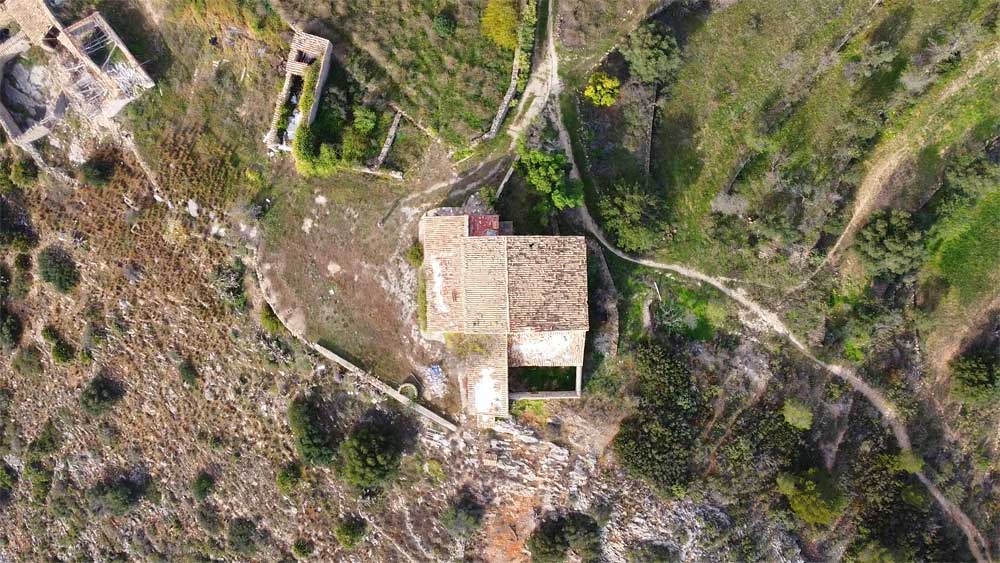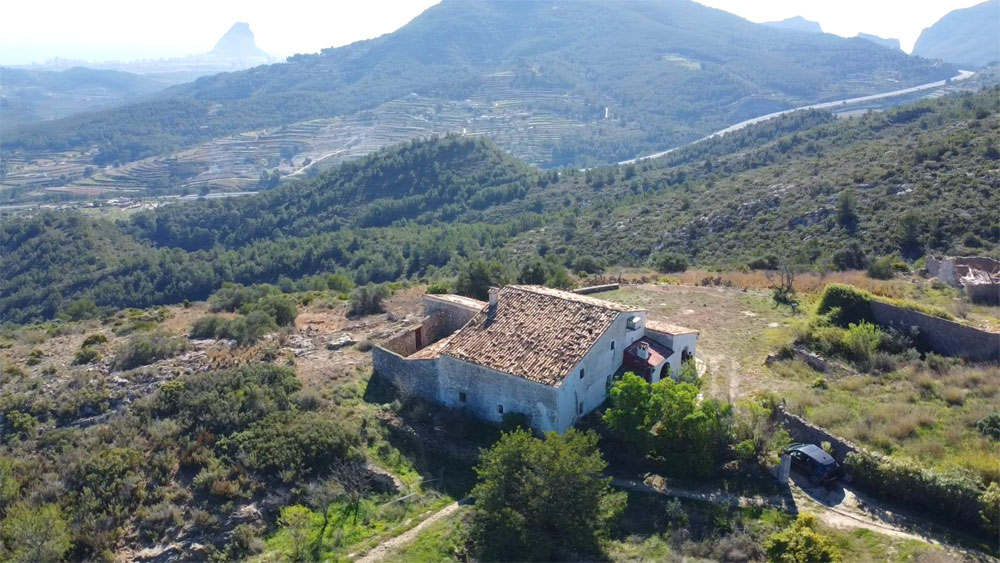 finca te koop benissa met kust op achtergrond
finca te koop benissa met pinos op achtergrond
Finca-te-koop-met-huis-in-ruines
finca-te-koop-benissa-bovenaanzicht-met-2e-huis-en-stal
finca te koop benissa zij aanzicht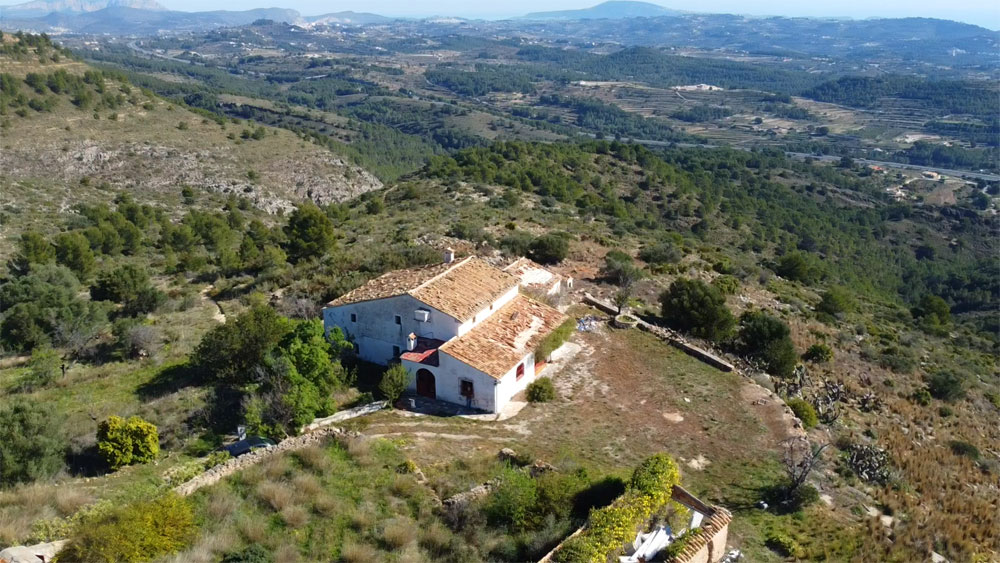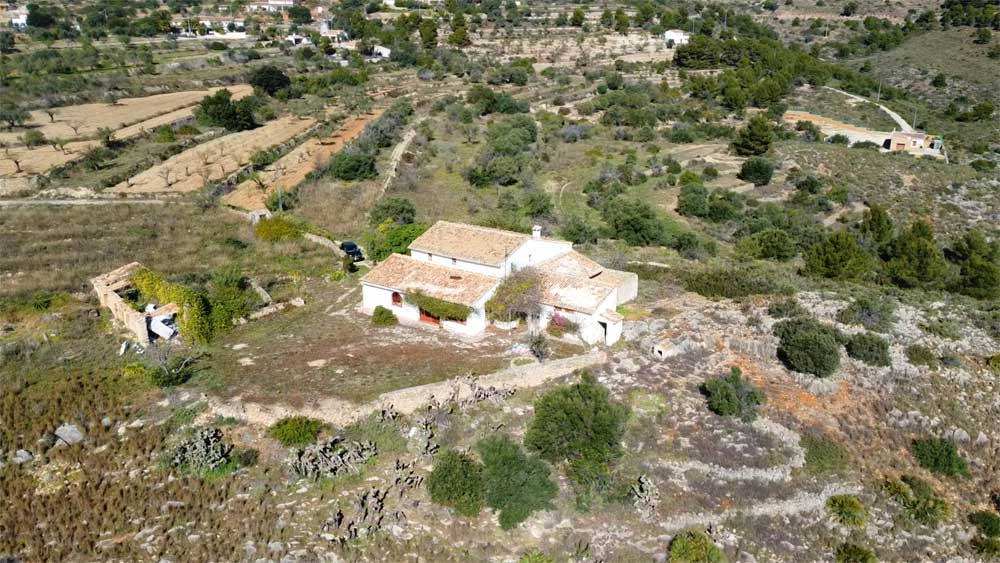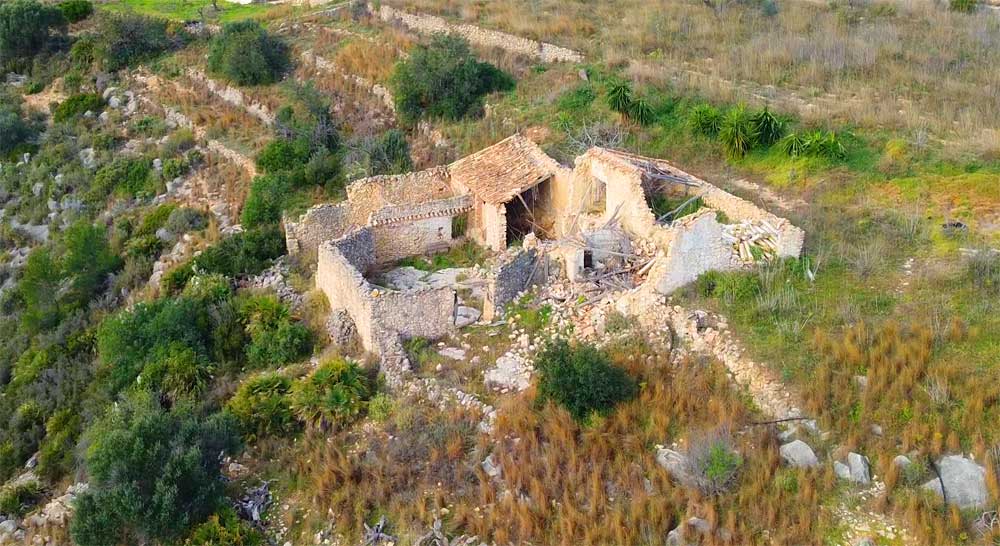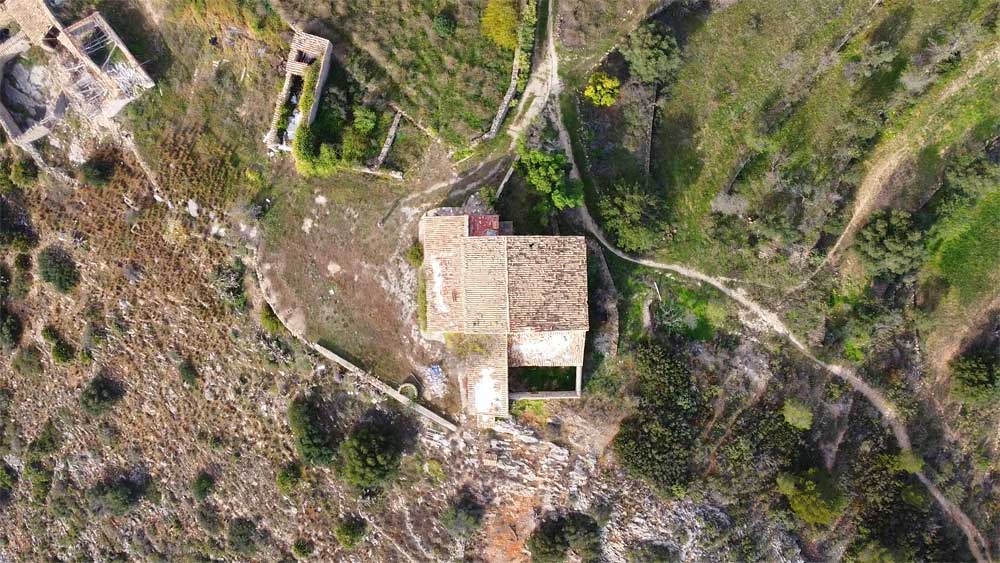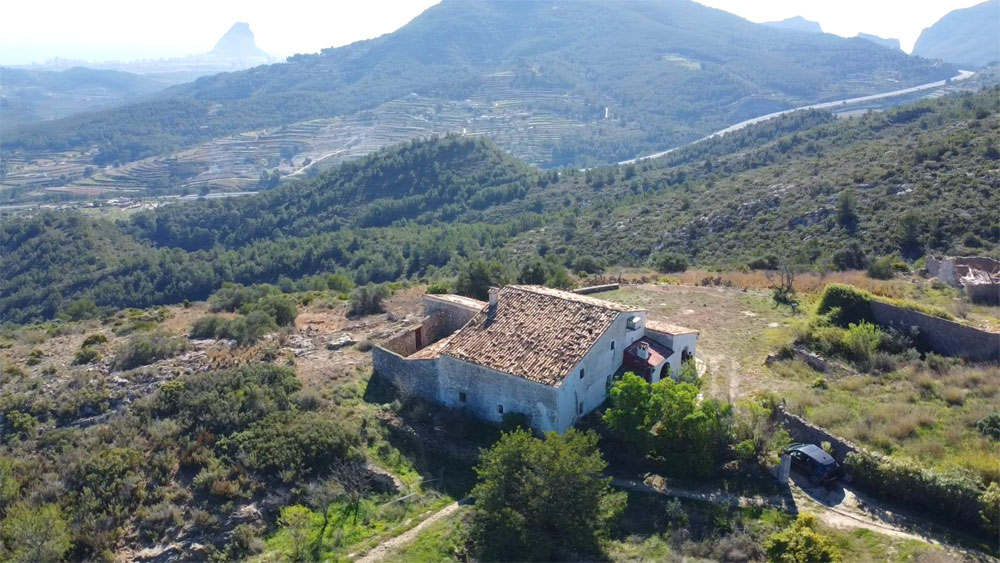 12.3 hectare finca for sale with 3 buildings in Pinos, Benissa
This fantastic finca is situated in the hamlet of Pinos. It is a huge plot of more than 12 hectares. On the plot there are two further buildings. The main house is a typical farmhouse of this area, with several outbuildings and a corral. The total surface of the house is almost 400m2 divided over two floors.
Next to it, in the courtyard, there is a RiuRau, which is a typical stone building in our area in which one or two facades are formed by arches. This barn has a size of 4 x 8 metres. This building still has the remains of a roof and is in need of a loving restoration, after which it will be an ode to past times and a real monument.
And finally, in the yard, there is a complete house in a completely dilapidated state. This building has a surface area of another 168m2. This building may be rebuilt in exactly the same number of square metres as the original building had.
The total built-up area of this property is approximately 600m2. The location of this project is on the outskirts of the hamlet of Pinos. Pinos lies within the municipal boundaries of the municipality of Benissa.
A finca in the province of Alicante with a lot of possibilities but also some restrictions
This finca in the province of Alicante is again one of the real rough diamonds that I may present on this website. One of its most important features is its location. It is very quietly situated on the outskirts of a small neighbourhood. Part of the land is formed by ´monte´ mountain, land that in principle you cannot do much with. Moreover, the land and the house are in an area with a protected status. This limits its destination but is also the biggest selling point of this property. The surroundings of the house are fixed for the future, here you do not have to worry that a mega project will be built next to your newly acquired Finca. Here you will find a permanent and spectacular free view in all directions with no less than 123,000m2 of land as a privacy buffer around the house.
From the land and the house you have a spectacular view over the valley next to the sierra de bernia and over the sea and the coast. For the absolute silence seekers, it is important to mention that you can hear the hum of traffic at the coast.
From this property you are within 15 minutes in the village of Benissa and within another 15 minutes on the first beaches of Moraira, Benissa and Calpe.
Contact us
T: +34 123 456 789
E:
House type: Traditional Valencian farmhouse/finca, stable and additional house in ruins
State: partly in ruins in need of complete renovation
Built: +/- 600 m2
Plot of land: 130,000 m2
Type of land: agricultural terraces, mountain
Water supply: 2 cisternas, one in the house, and one outside (cisterna is an old underground water storage basin).
Electricity: 2 connection points to the mains.
Height: approximately 400 metres
Distance to village: 7 km
Distance to road: 150,without asphalt and after that direct connection to the road Pinos/Sierra de Bernia/Jalon.
Possible uses: habitation, hobbyfarm,  B&B possible double occupancy.
Price: 685.000€