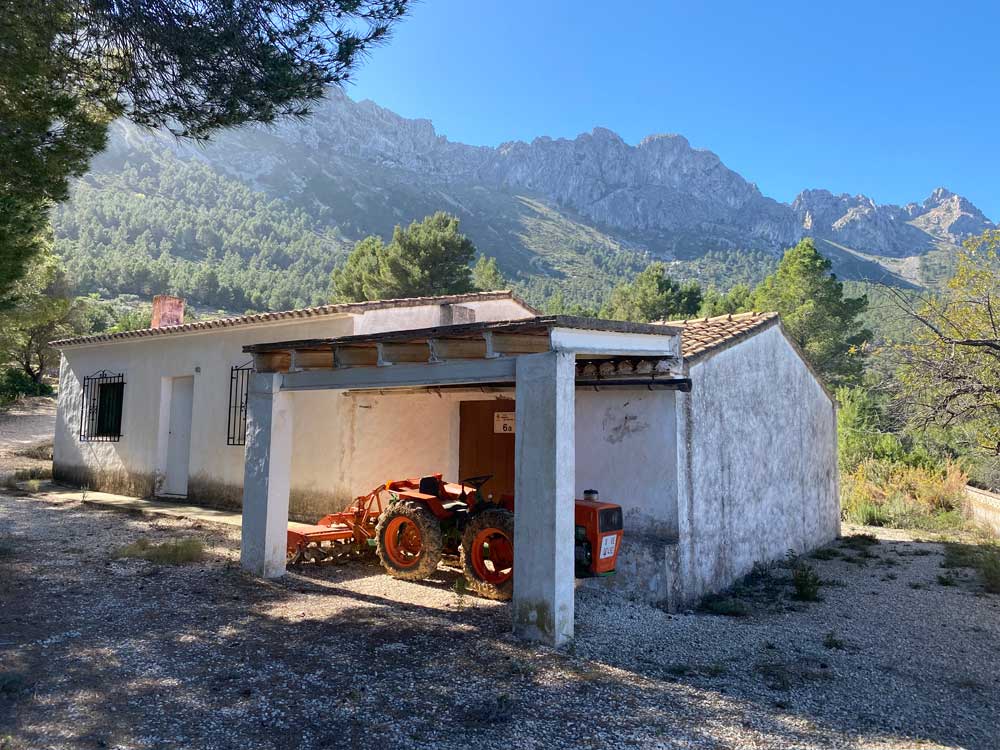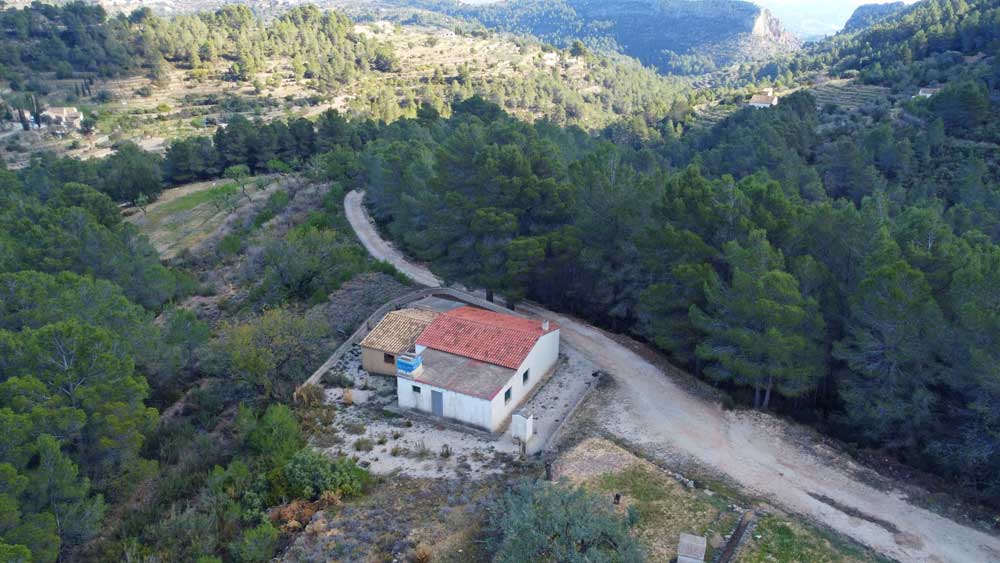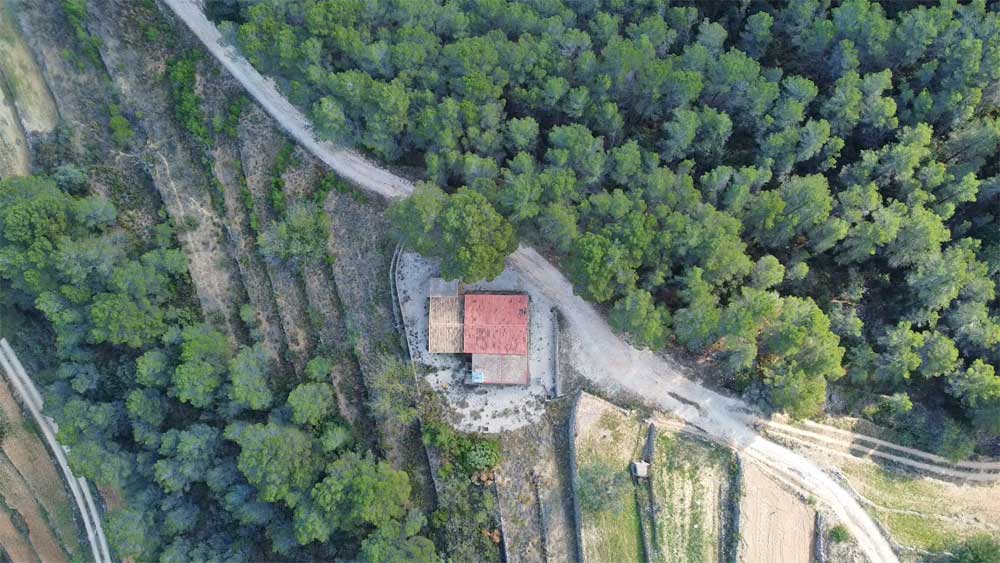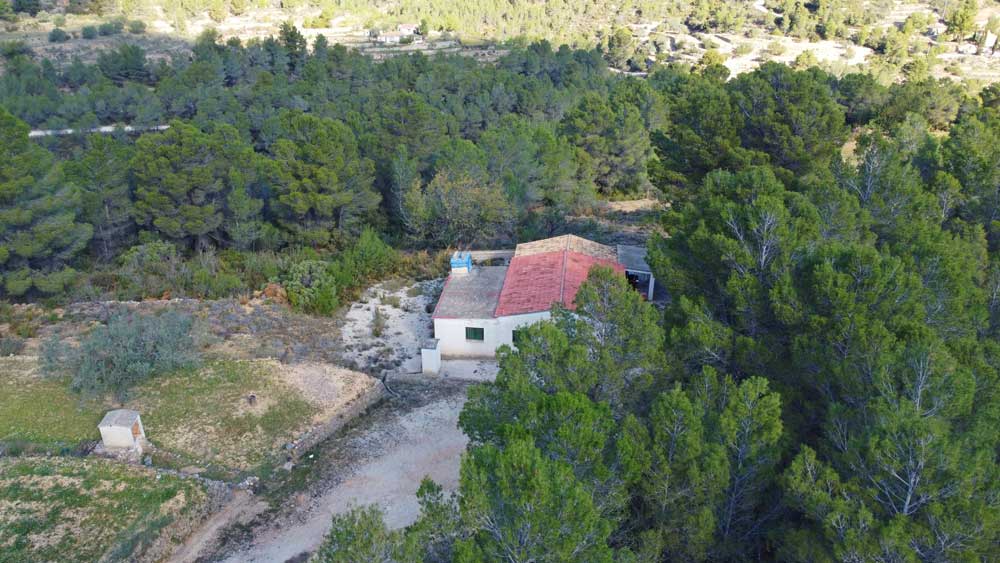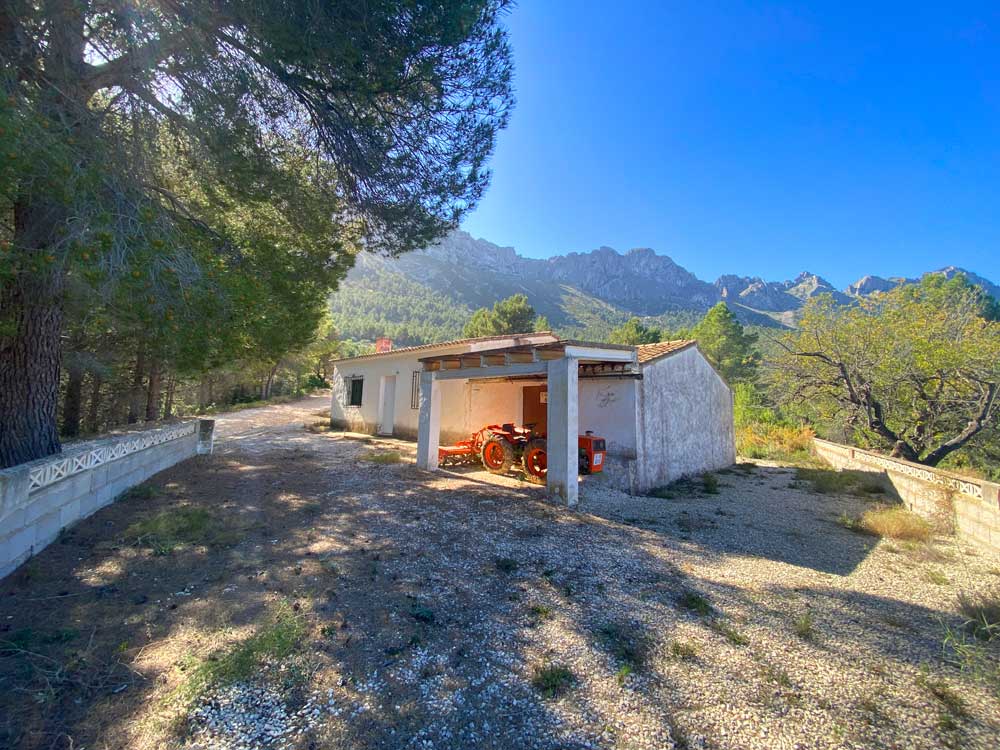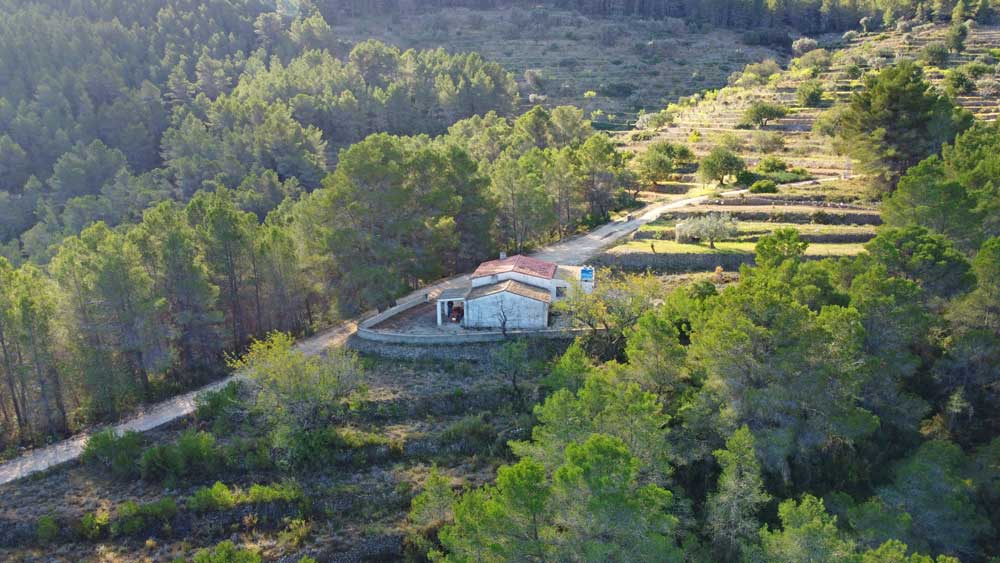 finca-te-koop-sierra-de-bernia-1
fincate-te-koop-sierra-de-bernia-richting-zee
finca-te-koop-sierra-de-bernia-helicopter-view
finca-te-koop-sierra-de-bernia-vanuit-het-bos
finca-te-koop-sierra-de-bernia-2
finca-te-koop-sierra-de-bernia-zij-aanzicht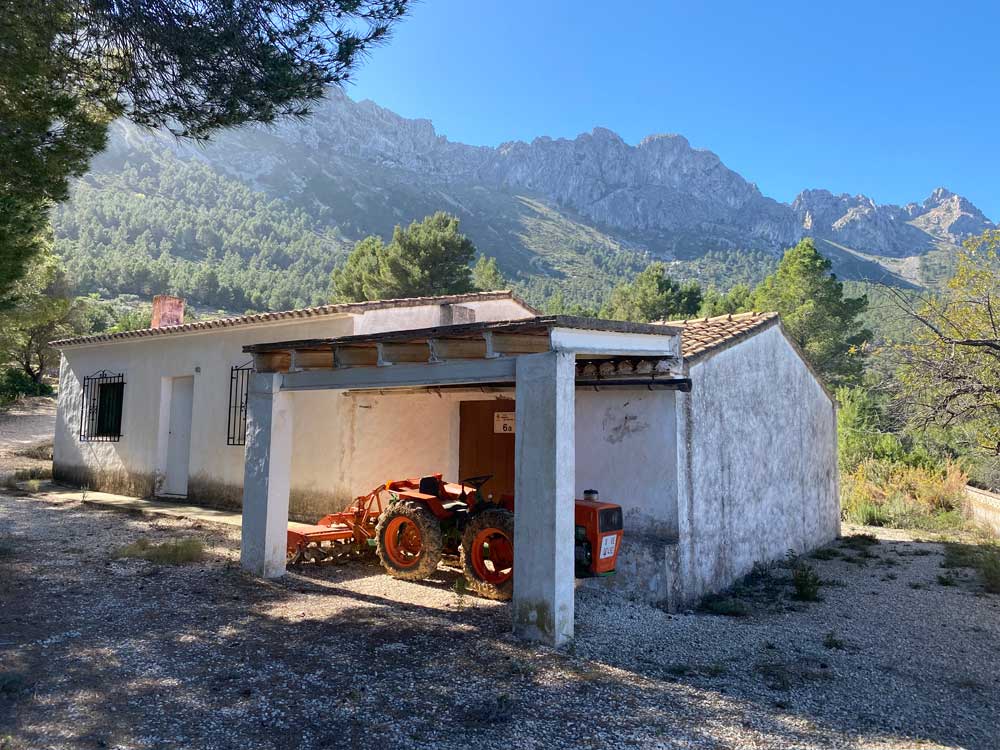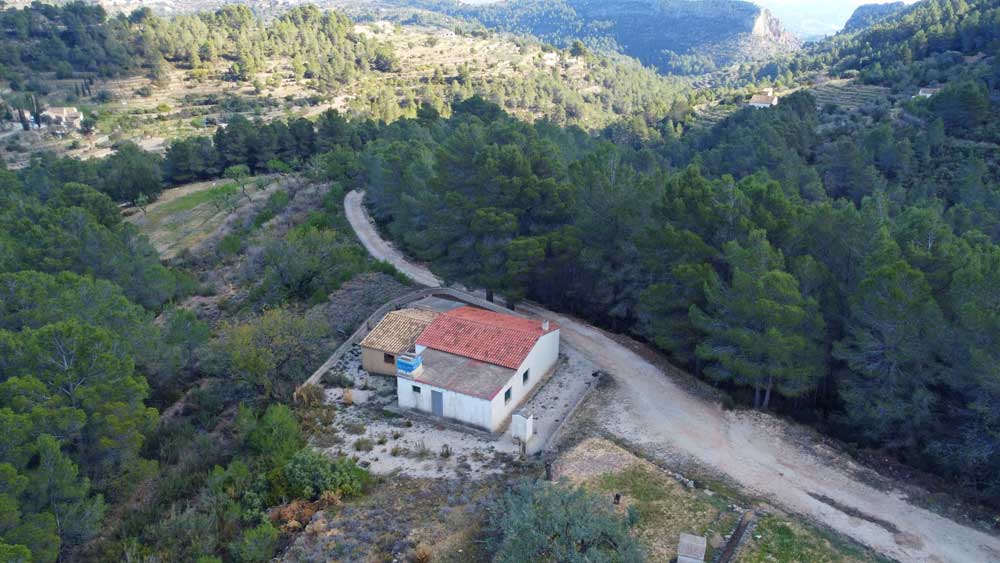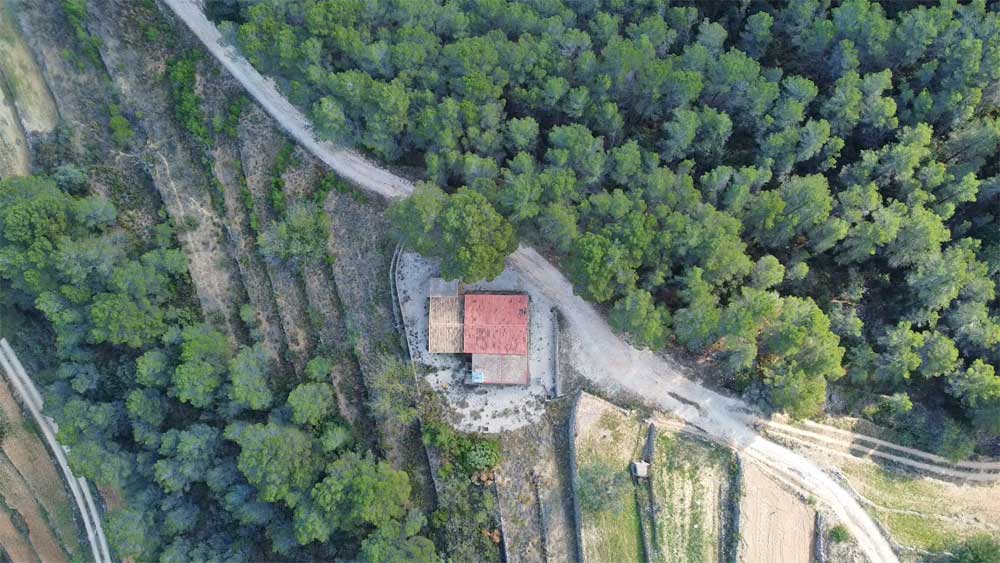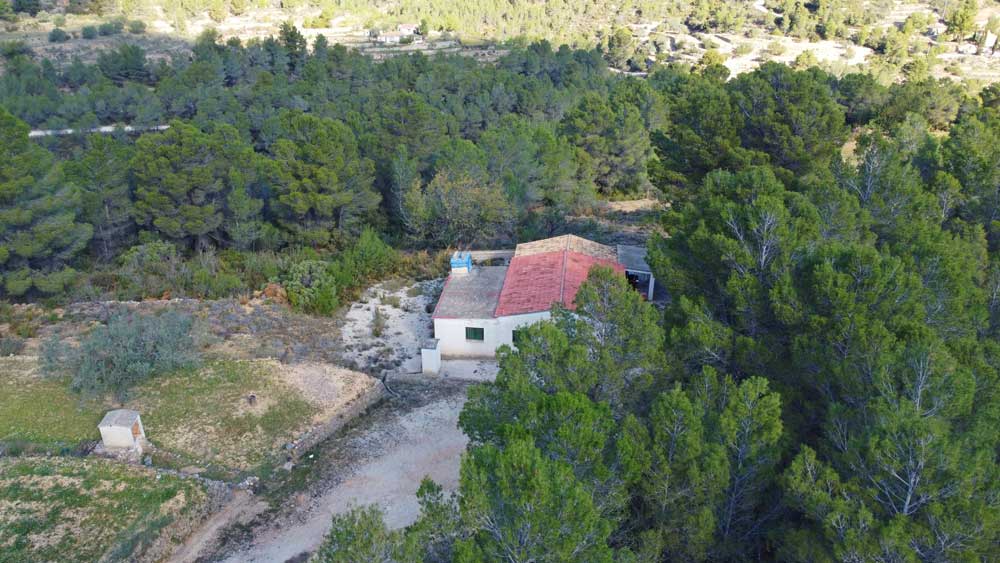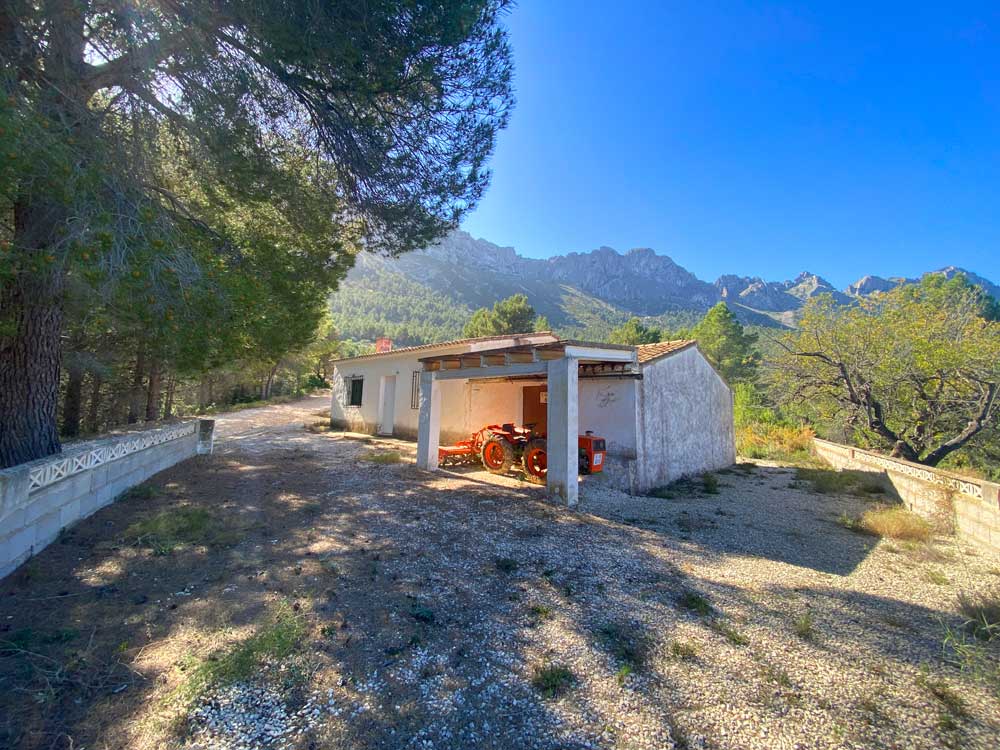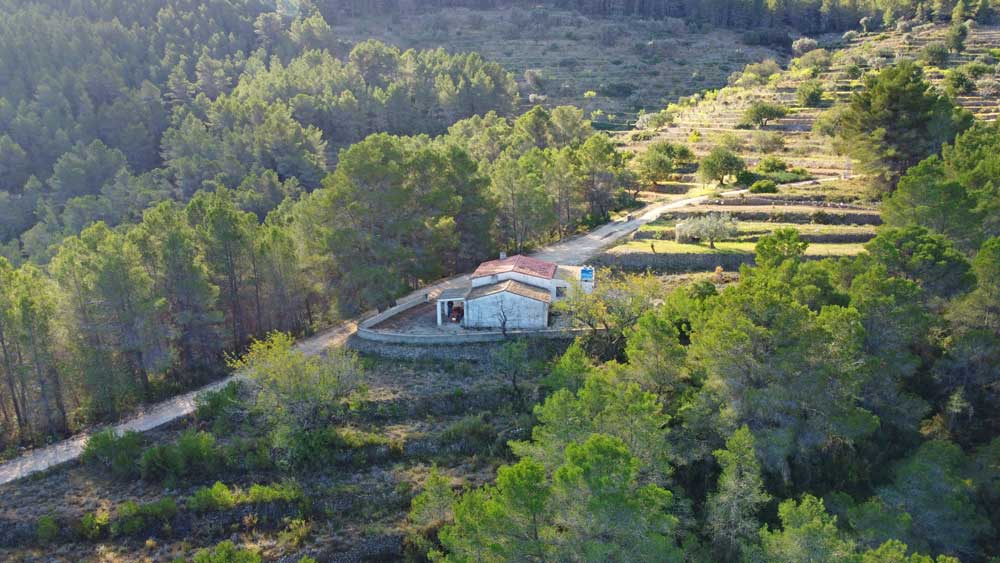 Finca for sale at the foot of the sierra de bernia
Simple farmhouse situated in a protected area
This finca of 133m2 is located at the foot of the striking mountain chain the Sierra de Bernia near the popular church village Pinos that belongs to the municipality of Benissa.
The house is a typical Spanish 'Casa de Campo', upon entering you immediately enter the living and dining room, in the corridor that leads to a back door are 4 spacious bedrooms and a very simple bathroom. The house is all on one floor. There is a small extension of 37m2 and a veranda of 10m2. The water supply is simple via a cisterna, a well where water can be stored. The house has no electricity at the moment but the first connection point is less than 100 metres from the house. The current power supply is very minimal and by means of a generator.
A finca for absolute tranquility seekers and nature enthusiasts
The house is located on a dirt track and only accessible via this road of +/-1km. To make the house suitable for permanent or semi-permanent living, renovation is desirable.
This simple finca at the foot of the Sierra de Bernia is situated in a really picturesque spot, which means that the house does not have sun all day. The house is situated on a very large plot of 4004m2 but the total area of this property is no less than 3.4 hectares of land. that is partly forest.
The location should really be experienced so dont hesitate to make an appointment for a viewing.
Contact opnemen
T: +34 966181040
E:
Very simple dwelling
Situated in a nature reserve and on the edge of the hamlet pinos with 2 restaurants, a chapel with a square, view on the nature reserve of the Sierra de Bernia
At only 20 minutes from the lively costa
For people that want to live in the countryside
House type: ´Casa de Campo´/finca
Condition: Good condition but in need of renovation
Built in: +/- 133 m2 + 37 m2, in total 4 bedrooms and a bathroom
Plot of land: 34.000m2
Type of land: agricultural terraces, forest and mountain
Water supply: 1 cisterna of +/- 20.000 litres capacity (old underground water storage)
Electricity: no electricity, but there is a possibility very nearby to connect to the grid
Altitude: about 400 metres
Distance from village: 9km
Distance from road: accessible by a 1 km unpaved forest road
Possible use: habitation, holiday home,
Price: asking price 145.000€